52 ANCESTORS in 52 WEEKS : week 3
LONGEVITY
Noel Stanley Blegg was born to Sylvia and Charles Blegg of Moonah Tasmania on the 19th of October 1919. The second child and the 2nd boy, later to be one of 4 boys and 1 girl.
I was on the way to Ballarat to visit Noel, from the Melbourne airport on a bus when it went up a reasonably steep hill, and I was reminded of Noel driving his 1927 Chev up Pretty Sally, a very very steep incline in Victoria, finding a car in trouble half way up that was never going to get to the top of the hill, driving up behind, it touching bumpers and then yelling out "Whatever you do don't touch the brake, keep your foot of the brake" Then pushing the car up the hill.
I think that describes Noel, he kept his foot of the brake and lived his life to the fullest possible.
Noel's 2 surviving brothers and his sister, joined the military during the war and Noel presented himself to enlist but was told 3 times, sorry you are not acceptable as a recruit, you are needed in your present occupation, Noel was a minister of religion.
He had travelled from Hobart via Devonport to train for the ministry, that would shape the rest of his life. He travelled with 2 others from the south of Tasmania.
The first place Noel was sent to minister  was to Yarloop WA, the place used as a church was a bag hut. Most of the timber workers lived in bag huts and the work place mess was also a bag hut, just a rather large one. I have a photo of Noel standing outside the "church" playing his cornet to an appreciable audience of children. I noticed that one of the bags for that corner of the church had commenced its life in Tasmania.
Noel rode his push bike around a lot of places in Western Australia, as a single man with his cornet in its case slung over his back or round the handle. The cornet which his father bought for him from a pawn brokers shop in Hobart, was a bit worse for wear, but it played well and frequently it was the only thing available to accompany the hymns on a Sunday. Noel told me if he was cold riding his bike he would wrap his legs in newspapers and ride faster. The cornet was later passed on to his oldest grandson.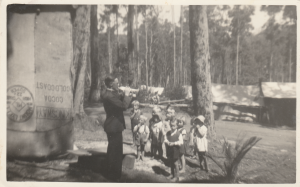 In 1943 Noel married Catherine a young lady from Victoria, they met on the railway station at Kellerberin in Western Australia, Noel was a minister in the town and Catherine arrived in the town, during the 2nd World War, with a group of just a handful of adults and 200 plus children, mostly girls, who had been sent inland for safety from the Cottesloe Girls Home. The American military had taken over the home as it had a tower and it was possible to see a long way out to sea from the tower. They also thought that should the Japanese try to invade a building with a tower would make a possible target, so everyone and everything beds, blankets, saucepans cups and plates, absolutely everything was send by troop train inland to Kellerberin.
Noel met the train and directed the large, tired group to what was to be their new home almost opposite the station, the triple fronted drapery store and the working men's hostel that was behind the store with its front in another street.
For Noel and Catherine, both redheads, I was told it was love at 1st sight.
They had met in The West But married in North Melbourne in December 1943, where Catherine's mother lived.
Just after they married Noel was asked to go to New Norfolk in Tasmania and be the minister to the small community and smaller church congregation.
The area they were to minister to was rather inaccessible as they wanted to go out to the hop fields to show films to the children and minister to the adults, who mostly lived a very hard life as itinerant pickers, women and children and men too old to enlist but not trained in any essential service job.
With a lot of travelling to do Noel hitched a ride to Hobart and drove back to New Norfolk in what was to become the families favourite car, a 1927 Chev. The man who owned the car yard he bought it from showed him how to drive it, how to use the gears and when to use them, told Noel to drive it round the block and see what he thought of the car. Obviously he liked it so it was purchased, driven back the 22 miles to New Norfolk. The next day Noel drove to the police station and told the constable he needed to get a license to drive the car, he was told Ok drive me home for my lunch, come back after lunch and I will issue your license. So that's what happened.
Noel's family grew to be 3 girls and 2 boys, but their 2nd child Robert passed away shortly after birth.
The Chev took his growing family on many trips, friends of his children made fun of the old car, because they had new flash cars, but it never let him down not once, it didn't have a push button starter like the newer cars, it had a crank handle that could break your thumb if it wasn't turned correctly, we know that as we saw one man break his thumb on it, that old Chev was used to push start many a much newer car, that would refuse to start. The Chev even went on holidays from Victoria to Tasmania it travelled on the deck of the ship after being hauled up in a huge rope sling and back down at the other end the next day.
Noel owned that Chev for  12 years. It died one Sunday while the family were going for a Sunday afternoon drive, when it was hit by a motor bike, the rider went head first onto the roof and came through the soft top looking down at a family of screaming children, horrified to see a head come through the roof, the bike ended up upside down in the engine bay, totally wrecking the engine and snapping of all its attached parts. The rider was ok but he was lucky the Chev had a soft top, as he had no head protection.
Noel and Catherine found they could not clothe nor feed a growing family on a ministers stipend so for many years they lived in North Melbourne and Noel worked for Woolworths in Bourke Street, in charge of their new and rapidly growing garden department.
Sometimes during school holidays we would go to see him at work only to see him run up the stairs to the store room, and run back down laden with what he went to get, he could never stop his hurried pace.
After the children were grown and 2 had left home Noel and Catherine, went back to what they really always wanted to do. Pastors of a church this time in Victoria and later in South Australia.
At the age of 50 Noel had a heart attack it was while recovering that he took up the habit of walking every day, he started at a slow pace but it quickly became a fast paced walk, he didn't seem to believe doing anything slowly.
Many happy holidays were spent by them driving across to "the west" visiting places they had both lived many years before, always stopping for a meal or a thermos of coffee in Kellerberin.
After 63 years of marriage Catherine passed away, that left just Noel by which time my family lived in Western Australia. On a few occasions Noel took our dog for a walk, but the poor thing could not keep up the pace that Noel set, and refused to walk another step.
Noel did a fare bit of travelling in his last years, he wanted to visit China, but as he was legally blind his family would not let him, he did go to Cairns, WA, New Zealand and to Tassie to visit his sister and younger brother a number of times.
When Noel visited us in the west he wanted to go and see some of the places he had lived and worked at, one of them was his favourite, because it was his first church, Yarloop, where the church had been a hessian bag hut.
The day that Noel passed away we heard the news that Yarloop was gone, the whole town was destroyed in a bush fire. We didn't have to tell dad that his beloved Yarloop was gone.
Noel did well to make it to 96 he lived life to the full and he travelled his last journey with his foot off the brake all the way.